Our journey began with a field visit to an after-school center in rural India last year. We conducted a creative learning workshop at the center with around 20 children around paper circuits, followed by several pilots later to test the efficacy of one of our prototype projects. Even though several disruptions arose due to COVID-19, our approach only solidified due to several tests and trials, and our vision and mission, programs and projects grew stronger, slowly and steadily. Most importantly, our community has now grown! Over the last year, we have worked with 2150+ students, 60 educators, and 6 partner organizations in engaging them in creative learning experiences.
Here are some of the key accomplishments from 2021 that we are most proud of:
Non-profit incorporation
First things first! We are now registered as a non-profit corporation both in India and Canada ❤️ Woohoo! What does this mean for us? We are now ready to tread on a fundraising journey. We can accept donations from individuals and organizations, apply for grants and accelerator programs, recruit volunteers and interns and take on other not-so-fun duties of a corporation (like filing tax returns 😐). We are now also listed under Fast Forward and Your Story's tech non-profit directories.
Activities and workshops
We conducted 13 hands-on workshops for educators and children around creative learning, capacity building, and storytelling. Out of 13, three workshops took place in-person in Gujarat (India), and the rest were online. Some of these workshops followed the plan outlined in our facilitation guide and ran continuously for a week. Interestingly, one of the capacity-building workshops we conducted was attended by 30 educators from government schools in India in person and by over 9000 educators online. Educators found it super helpful, and got introduced to innovative pedagogies for facilitating tinkering in a classroom setting. Overall, it was well-received by them, and the fact that it reached so many educators was a big win for us!
Beta launch of our flagship product
We beta launched ZubHub (our flagship product), a collaboration platform for young creators! Zubhub is a free and low-bandwidth mobile and web platform that expands access to low-cost creative learning opportunities to children in underserved communities. On ZubHub, children and educators get inspired by a collection of activity ideas and projects, build with the materials and tools around them, and share their creations with others. You can think of it like a mashup of YouTube and Instagram, purely for creative educational projects!
We are constantly testing, gathering feedback, and onboarding students through workshops. So far, 60 children have uploaded a project that collectively received 917 appreciations (likes, views, and comments). In all our testing sessions, children have wholeheartedly welcomed ZubHub! The big revelation for us was realizing how the internet and social media have permeated even in villages in India. In addition, we also observed that children could differentiate ZubHub from Instagram and perceive it as a purely educational tool that is less distracting to them while having the potential to encourage collaboration among peers. Time and again, kids reminded us that they see their projects on Zubhub as a portfolio they can always keep and share with others as they explore their creativity.
We are also talking with educational organizations (Agastya and Zero2Maker) as potential partners interested in leveraging it for their use. We are setting up custom installations and developing resource materials for these organizations. Our official launch is due in January 2022. We hope it will move us forward in our goal to scale ZubHub to serve thousands of children in India!
Tinkering fellowships
We worked with two tinkering fellows (first Unstructured Studio interns!) to help us design and develop creative learning activities for our educators and children in rural and remote communities in India. As part of the fellowship, Nikil Augustine and Nikita Gandhi, lifelong tinkerers developed eight new activities to help extend our repository of low-cost activities. This content will serve as the baseline content for the ZubHub platform. We also got introduced to / had learning exchanges with artists and inventors who inspired the creation of our activities. Nikita shares her experience of working with our studio approach to facilitating learning.
Having worked with NGOs and schools, I feel that we are giving more time and space for thinking, questioning, reflection, and observation. This helps every learning style; it gives them many options to pursue, that there is nothing right and wrong, and every exploration is always learning about oneself or the material. That is quite strong in this format. Having something like an educational module for an adult to fall back on was missing, and this is how we should be doing in schools. It is the next step for whatever is happening in the education space." - Nikita, Unstructured Studio Fellow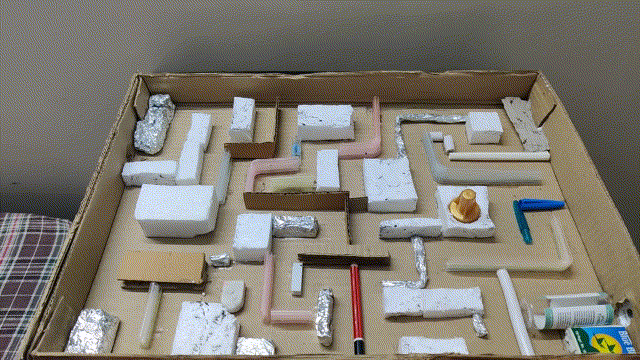 Covid-19 support programs
We switched gears and initiated a few COVID-19 support programs when the second wave hit India, affecting our children and their families. We explored collaborations with organizations developing COVID-19 resources, peer-supported virtual storytelling sessions, WhatsApp-based tinkering, and capacity-building programs. Realizing that the children we work with are isolated and need social and emotional support more than ever before, with so much going on around them, we focused our efforts majorly on storytelling sessions. Through these sessions, we provided them a virtual space where they could convene weekly to share stories with their peers and us: how they are keeping themselves busy, what new things they are learning or doing, how they are coping, etc.
Here is how Arpit found joy with our activities using empty shoe boxes when his father lost his job at a shoe store:
Fundraising
This year we applied for funding to several global accelerator programs, social impact initiatives, and grant bodies. Though we didn't get any luck yet, we reached the final stages for two programs: MIT Solve (here is a link to our elevator pitch) and Fast Forward. Besides, our work got featured in YourStory, one of India's leading media publications covering startups!
https://yourstory.com/socialstory/2021/08/toronto-non-profit-unstructured-studio-rural-india-creativity-2000-children/amp
Our favorite project from 2021
We are sharing below a video of our favorite project from this year. It is a DIY projector made using everyday materials by one of our students, which she has used to tell the story of a fisherman.
Up next in the pipeline
We are at an inflection point where things will move fast with ZubHub to scale it to thousands and thousands of children and educators in India! We plan to focus our efforts on the following areas:
Developing and evolving ZubHub
Building partnerships with institutions willing to adopt the tool
Conducting outreach efforts through programs to increase our reach
Fundraising and procuring resources that can aid in the development of our projects and programs
If you are an individual or organization interested in mentoring or partnering, write to us at hello@unstructured.studio.
Your donations will help us go a long way! Please consider donating to us if you believe in our work: https://unstructured.studio/donate/ 💰💰💰