As we are in this pressing time of chaos and uncertainty caused by the second wave of coronavirus in India, we are deeply concerned about the children, teachers, and families we work with and those affected by it. As the current situation has gotten out of hand, some lives are affected in ways that we are not even aware of and equipped to support them. Earlier this year, when the cases had dropped in India, and the situation had improved, we were proactive and resumed in-person activities, and planned more. But, as schools and organizations will remain closed for a while, and we can no longer do on-ground work, it is time for us to re-evaluate our programs and priorities at this time. Here is how we are switching gears, developing new and revamping our existing programs to support our community.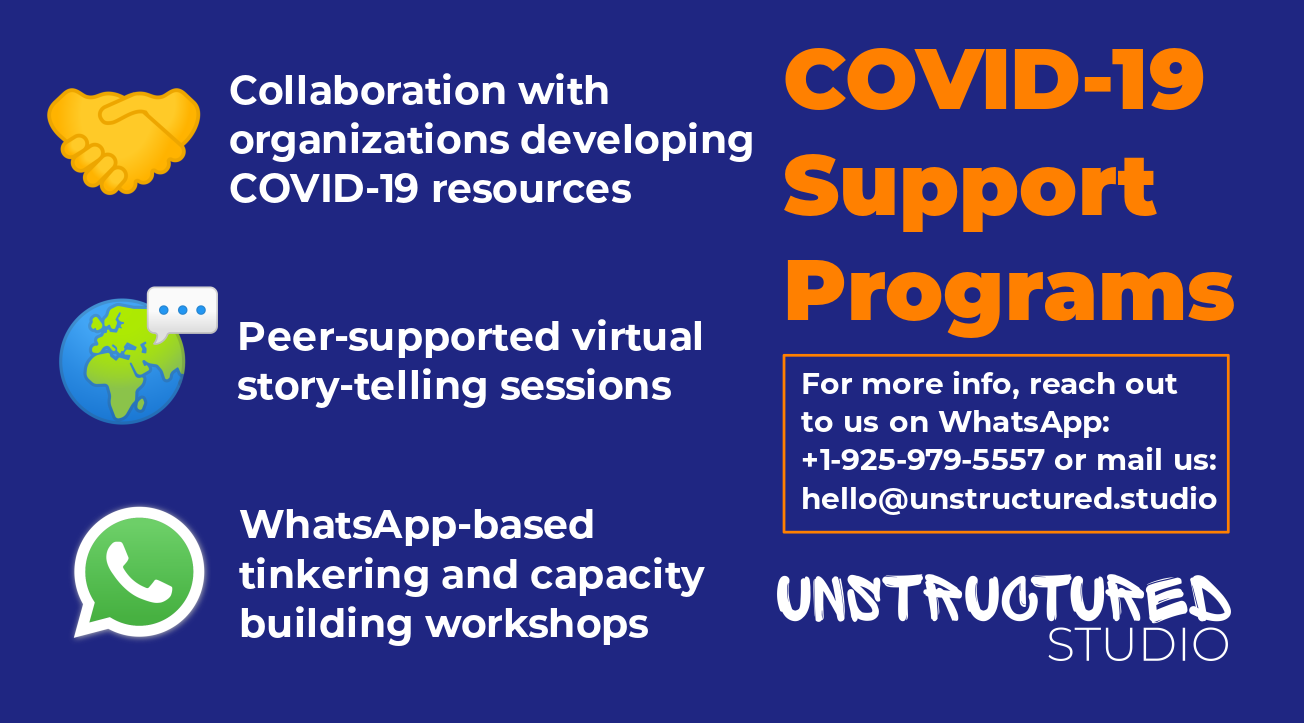 Collaboration with organizations developing COVID-19 resources
We are looking at organizations, such as Dost Education, India Covid SOS, that have developed reliable medical and vaccination resources and resources around managing COVID-19 at home (including stress, positive behavior management, hygiene techniques). Over the next few days, we will approach a few such organizations, gain access to their resources and disseminate them to our community members in multiple formats and suitable language effectively.
Peer-supported virtual storytelling sessions
In these unprecedented times, the children we work with are isolated and need social and emotional support more than ever. With so much going around them, and the majority of them trapped inside their house for more than a year now, they are missing fun conversations with their peers. We plan to set up a virtual space where they can convene weekly to share their stories with us and their peers: how they are keeping themselves busy, what new things they are learning or doing, how they are coping, etc. Our learning facilitator Mihir Pathak (aka LearningWala) will be leading these efforts.
WhatsApp-based tinkering and capacity building program
In our response to COVID-19 last year, we launched a WhatsApp program through which we engaged children remotely in making and tinkering using the everyday materials and tools. Considering that a majority of schools and after-school centers will remain shut for a long time, our children much liked the program, we plan to run a second iteration of it to support continued learning, making and play among children. Our small team is getting the tinkering activities ready and we hope to bring back the program to children in June.
If you are a school, NGO, educational org interested in any of these ideas and want to collaborate, write to us at hello@unstructured.studio.
With great love and concern for our community and India,
Unstructured Studio