In the last week of February (20th-22nd), our team organized a three-day tinkering and facilitation capacity-building workshop series for children and educators in Ahmedabad, Gujarat. We coordinated these efforts in collaboration with our partner, Moinee Foundation that operates in the four largest states and hundreds of schools in India. These workshops aimed to empower educators with the necessary skills and resources to support children in their tinkering journeys. Ultimately, we hope that we can foster a "tinkering mindset" in children from under-resourced communities and cater to our studio's mission through such efforts.
Day 1: Facilitation capacity-building workshop
We offered a day-long facilitation capacity-building workshop in an online and offline format. Teachers from over 30 government schools in Ahmedabad joined in-person, 9000 teachers from all across India watched us live, and 1 group with around ten people virtually participated in the workshop activities.
For setting the ground and context, we kicked it off by demoing two videos (a chain reaction and a cranky contraption) highlighting tinkering projects and asking educators to reflect on a few follow-up questions in groups. In response, teachers shared interesting science phenomena (e.g., Newton's first law, energy transformation, etc.), scenes from Bollywood movies, everyday objects from around the neighborhood where they saw similar mechanisms in place.
Through this workshop, we wanted to inspire teachers by sharing some of the philosophies around tinkering that prominent educators have discovered. We introduced them to Professor Mitchel Resnick's work around 4Ps of creative learning, how it connects with tinkering, why tinkering is essential, how it connects with 4Cs of 21st-century skills, and what is in a tinkering mindset. Though teachers indicated time limitations around making space for such activities, they appreciated tinkering; it was purely an unheard concept for some. They echoed that sharing such examples can help children connect with the science concepts and lessons better in the classroom.
A tinkering facilitator is ideally a tinkerer first. That is why we integrated a "building a tinkering project" activity in the workshop's design–we wanted teachers to have some tinkering fun and get introduced to the recommended facilitation practices. We engaged educators in a paper circuits activity where the organizers role-played facilitators and gave teachers feedback on their projects. This allowed teachers to gain a first-hand experience of the facilitation techniques. Some teachers worked in groups offline, some independently online, and built and shared wonderful projects! As opposed to a traditional activity where there are material and goal constraints, teachers appreciated the open-ended style of the activity, both in terms of its broader theme and room to tinker with various materials. They also shared that peer collaboration is not something they actively support and would like to try out with children.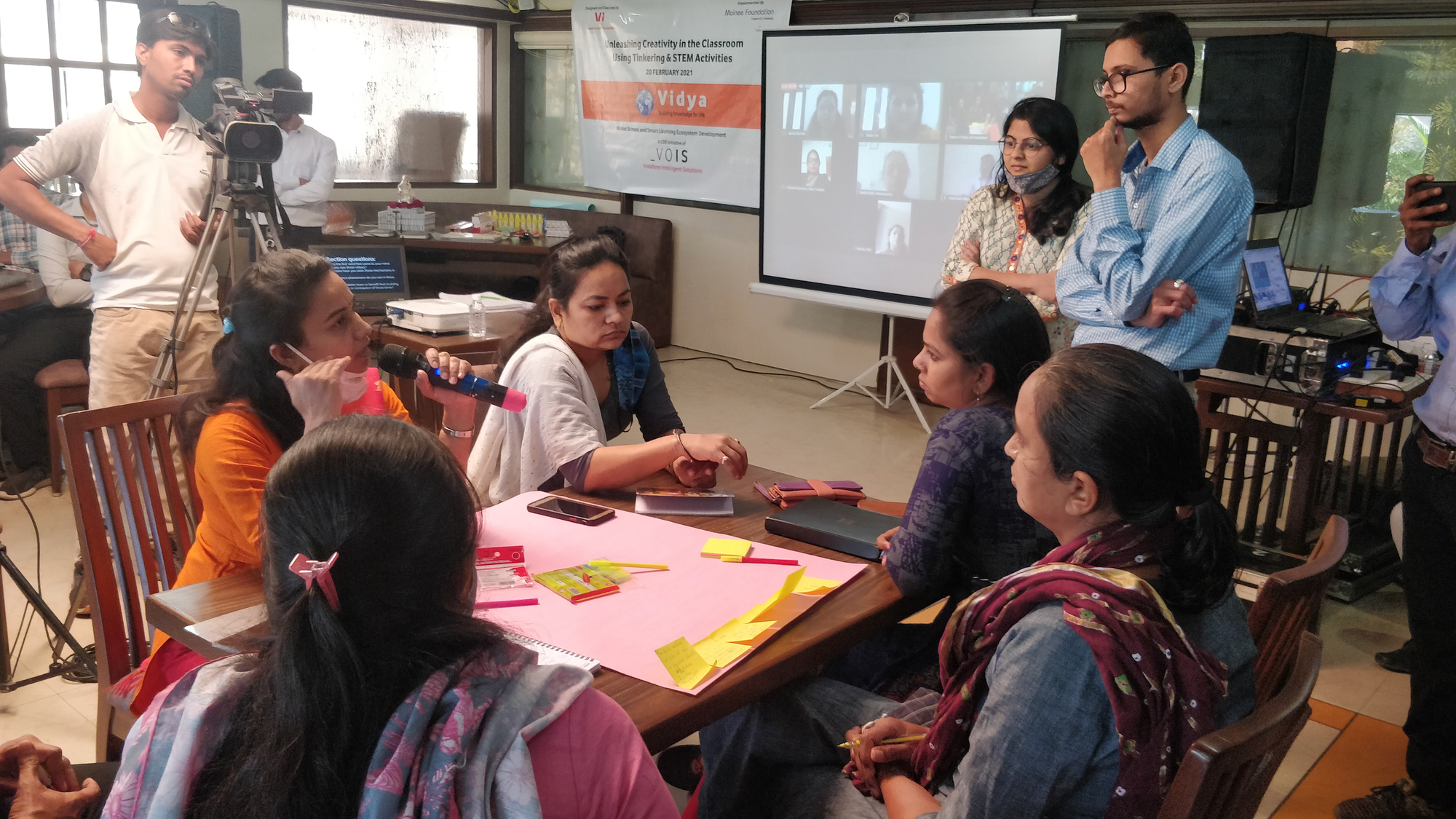 We also had group discussions on tinkering vs. stem activities, supporting tinkering in a classroom setting, how tinkering benefits children, tips for designing and supporting a tinkering activity, etc. Overall, we received a positive response from teachers and members of the partner organization. We have observed a dire need for capacity-building on such topics in the traditional Indian educational settings and to form spaces where educators can come together, inspire and learn from one another and have engaging conversations.
Watch the full workshop below on YouTube and view the workshop material here.
Day 2 & 3: Tinkering workshops at Moinee's community learning centers
On the day 2 and 3 of the series, our team organized two workshops with children (grade 3 to 8) at the community learning centers of the Moinee Foundation. We organized an activity focused on building a cranky contraption that can animate a character or a scene. One of these workshops took place at a community center in Khicha (a small village on the outskirts of Ahmedabad) and another at a high school in the city where we worked with children from two different socio-economic backgrounds.
Our goal behind these workshops is to understand the context of the audience we are designing our tinkering activities for and share some of the tips and facilitation practices we follow in our work with coordinators who operate these centers and more frequently organize such workshops. We focused on avoiding hand-holding, asking questions to foster self-inquiry, creating space to tinker with materials (and not provide them an already assembled kit), allowing children to work in groups (of 3 to 4), and sharing tips to interact with complex materials and tools.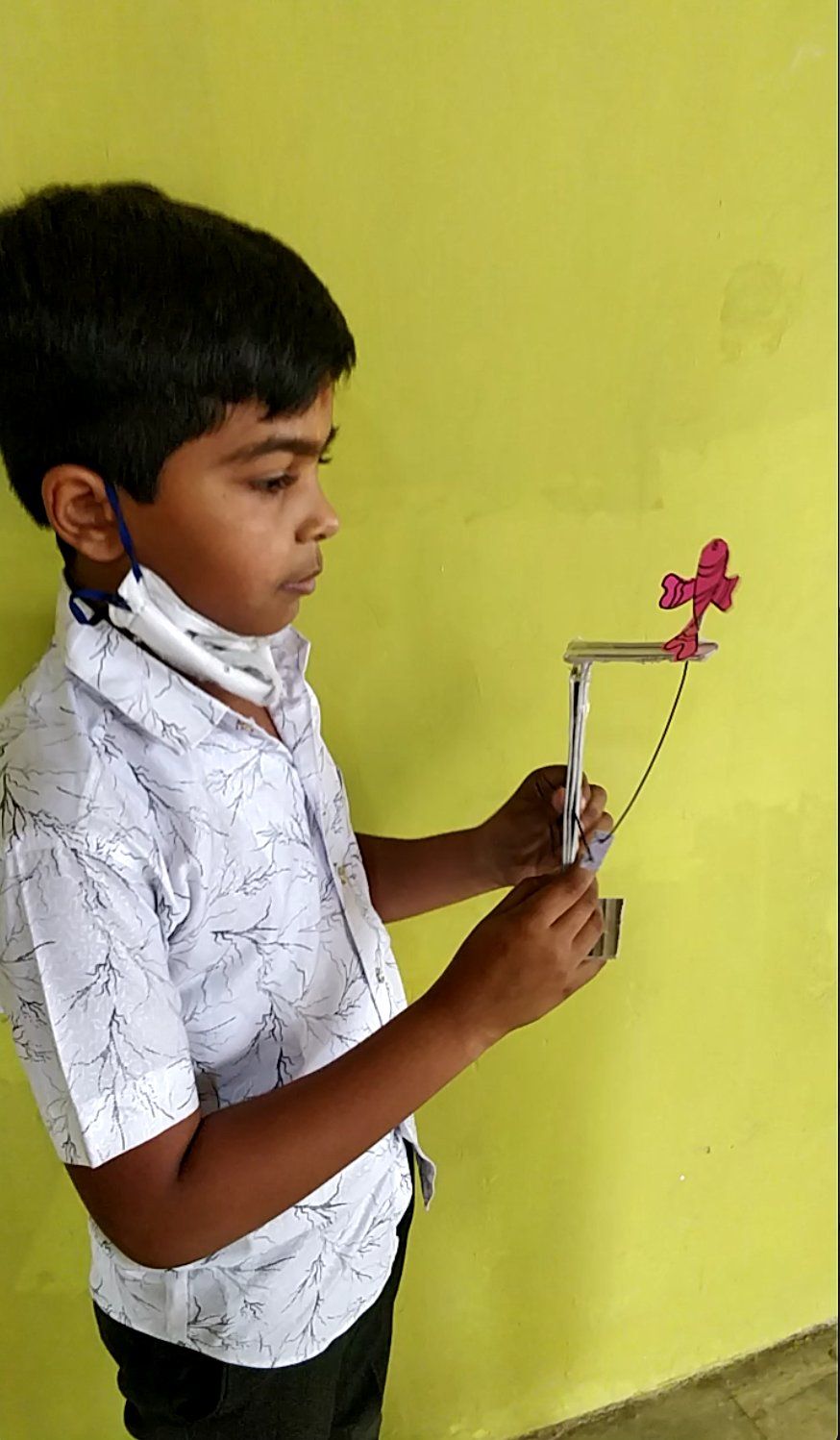 Next steps
We see potential to bring an impact in the capacity-building workshops we organized on Day 1 for educators. We plan to coordinate similar workshops both online and offline in a more structured and improved format in partnership with our local partners.
We are also looking forward to holding more tinkering workshops with children, engaging educators in co-facilitating, adopting the recommended tips and practices, and giving them feedback on their style. Our team will be continuing the development of tinkering activities and releasing them at https://kriti.unstructured.studio/. We will be ready with a concrete set of activities in 4-6 months from now that we could use to help train and onboard more coordinators to run them at the community centers more efficiently.
We want to thank the Moinee Foundation, E-Vidya, Gurushala, Pratham Education Foundation for their collaboration and support throughout this series!