After working for over a year on ZubHub, we are pleased to announce that it is now a free and open-source software! Over this time, it has evolved with the direct involvement of a vibrant community of developers, designers, educators, and primarily children as our target audience.
About ZubHub
ZubHub is a free web platform that expands access to "low-cost" creative learning and collaboration opportunities globally to children in underserved communities. You can think of it like Instagram or YouTube for creative educational projects! On ZubHub, any child anywhere will be able to join, get inspired by our collection of activity ideas and projects, build with low-cost materials and tools available around them, and share their creations with others. Some of the primary features are creator portfolios, community-curated projects, discussion-based collaboration, and monthly workshops.
The project is built using modern and fast web technologies: Django, React Native, Python and Docker. It is available for custom use for your school, library, hackerspace, or educational organization. It can be hosted in low or no internet bandwidth locations to create a small virtual hub. These hubs can be interconnected to form an extensive distributed creative education network. If you are a hacker, this project might sound to you like Mastodon or Hackaday.io for children 😃  ZubHub contributes to Unstructured Studio's broader vision of bringing creative education to under-resourced communities worldwide and planting essential 4Cs of the 21st-century skills in children - creativity, critical thinking, collaboration, and communication.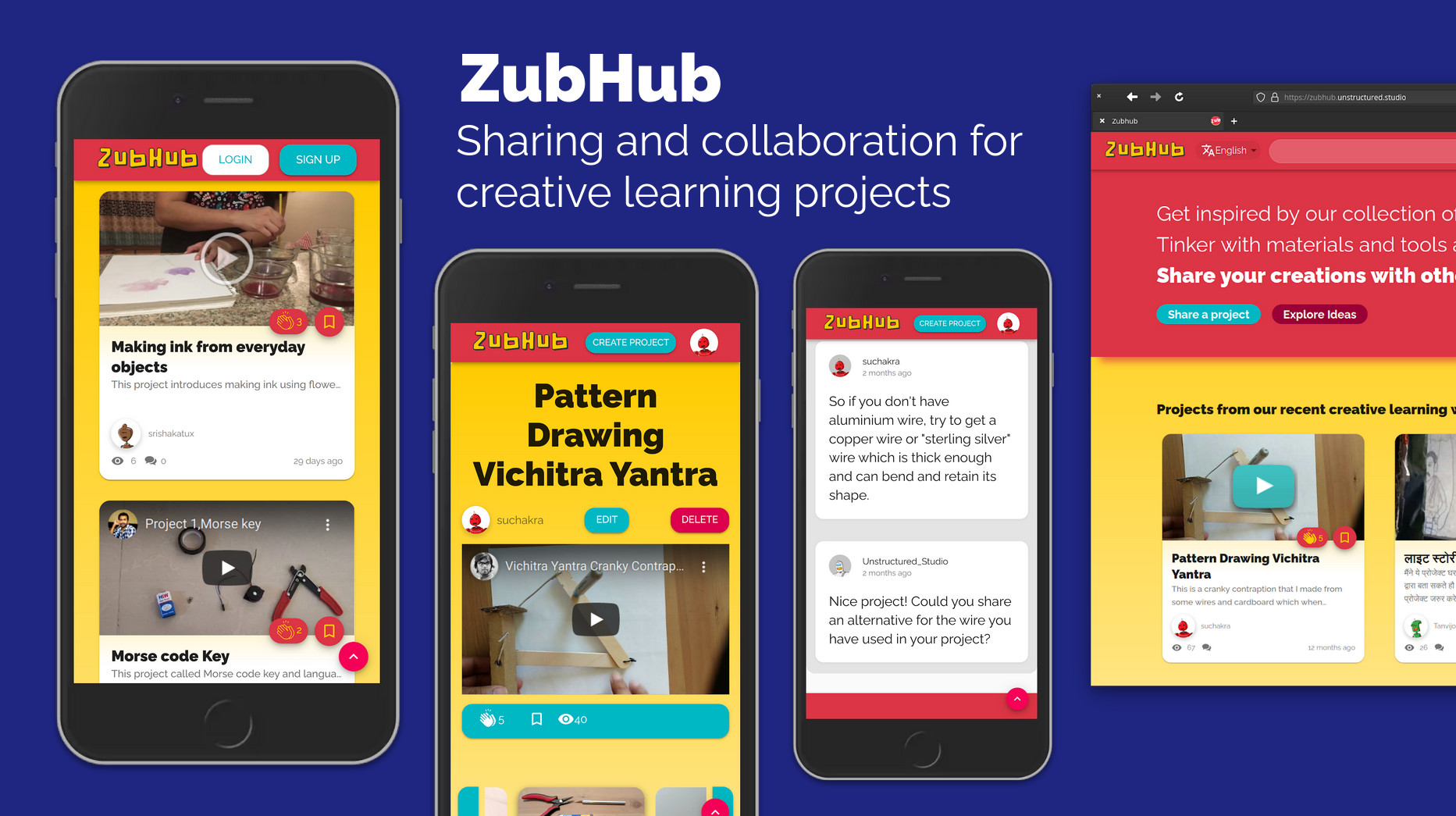 Outreachy
The good news is not over yet! We are also super excited to announce that we have been accepted this year for the first time as an organization in Outreachy! Outreachy is an internship program that helps people from underrepresented groups get involved in free and open-source software. What this means for Unstructured Studio – we will get funding for 1-3 interns to help develop this project and hone their skills at the same time. If you are an Outreachy applicant and have cleared the initial eligibility selection, your contributions to ZubHub are most welcome. Please look at the projects we are promoting in the current round.
We love Outreachy and it aligns very well with the vision to develop free and open-source tools and educational resources for the world, particularly underserved communities. We want to thank Outreachy for accepting us!  And to our mentoring crew (Ndibe Raymond Olisaemeka, Richa Rupela, Siddhesh Suthar, Chaitanya Kamtham, Suchakra Sharma, Srishti Sethi) comprising former Outreachy interns, mentors, and administrators with a wide range of skill sets and years of experience working on technical projects with open-source organizations (Fedora, Wikimedia, GNOME, etc.) who will be volunteering their time helping interns make contributions to ZubHub.
Join us 🤝 - this is your chance to work on an impactful real-world project that will be used by hundreds and thousands of children and educators worldwide!
Featured image credit: GNOME blog https://blogs.gnome.org/marina/files/2014/05/geek_feminist_lounge_PyCon_2014.jpg