Our latest teacher training, a one-day workshop in collaboration with Sai's Angel Foundation and Tata Power took place on 9th September, 2022 at Bidada village in Mundra (Gujarat). Ten teachers, nine from government schools and one teacher in partnership with Sai's Angel, took part in the workshop. It focused on explaining the concept of tinkering yet ensuring that it is tied to the board curriculum of Grade 6, 7, and 8 through our studio's creative learning activities to the teachers conducting them with the students in their schools.

This workshop was an initial kick-off training as part of our larger program as a learning and resource partner for a STEM initiative run by Sai's Angel Foundation, through which we will be reaching out to nearly 1000 students in 10 schools. For the first time, we will provide them with STEM kits containing materials for our learning activities, which will be utilised in these schools over the next four months.

The workshop began with a welcome address from Sai's Angel Foundation, followed by an inauguration ceremony by Tata Power and a speech on the importance of STEM programs in India. Our educator, Mihir Pathak, then took the session forward. After initial introductions, participants were shown videos of two of our learning activities, Vichitra Yantra and Chain Reaction. This time, we tried to create a new, impromptu set-up by asking the students present in the school to co-attend the workshop along with the teachers. They got everyone involved by asking for their reactions through questions such as, "Where else have you seen these mechanisms in action?" and "What is the first word that came to your mind when you saw these videos?" This session connected the activities with the board curriculum through discussion around questions such as, "Which science phenomena do you see in these videos?" and "How would children learn or benefit from building a chain reaction or contraption of these kinds?"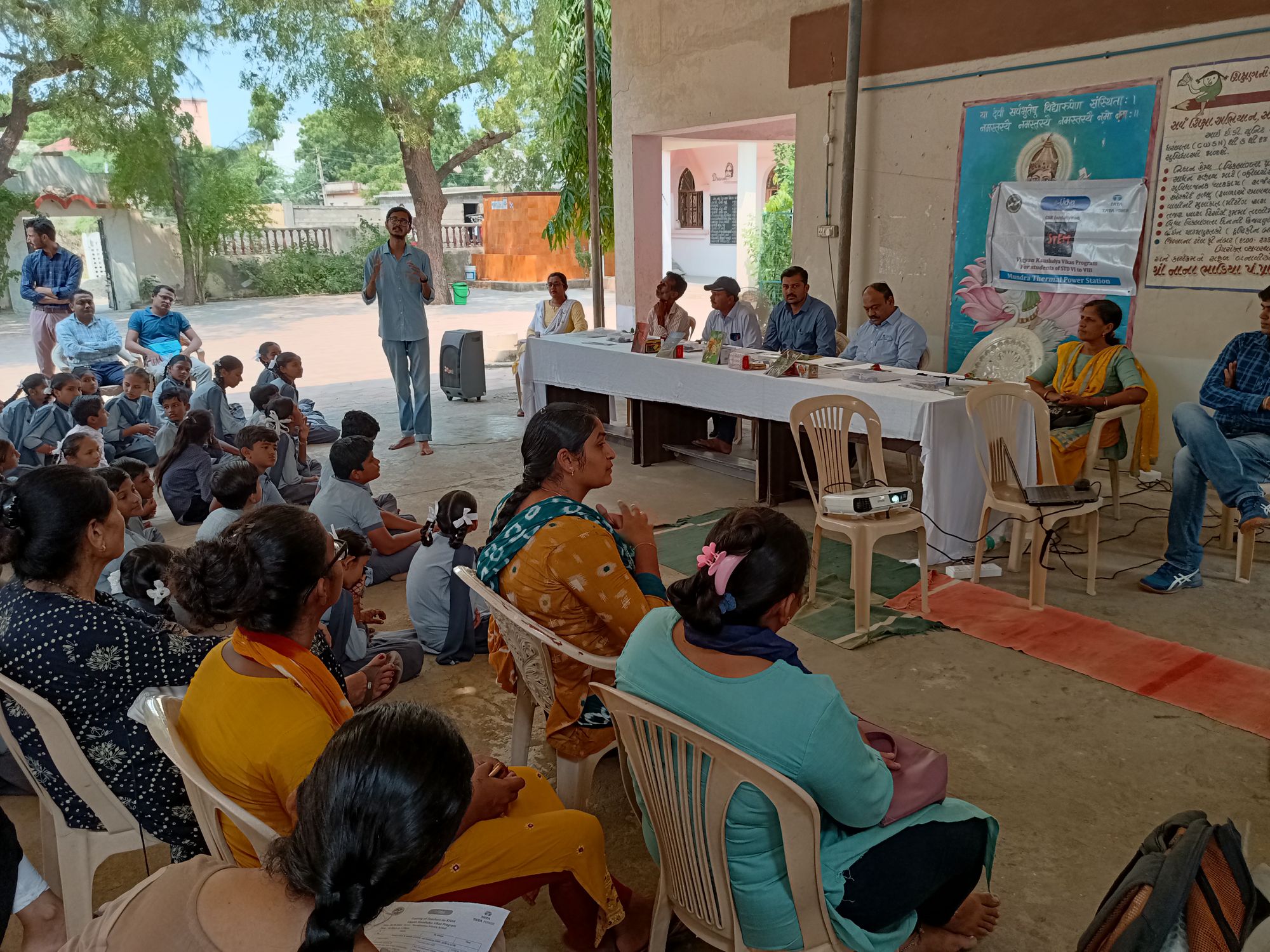 The main session of the workshop had participants working on their own projects based on the philosophy of tinkering. They were divided into four groups, each with teachers and students, and asked to work on the paper circuit project themselves. All the groups put their own unique spin on the project- one group created a temple with a flag on top - as one presses it, the circuit pushes the bulb inside the temple to light up. Another group made a Christmas tree, while yet another created a tiny bridge- if one puts their finger on it, it lights up.

Mihir gave the teachers tips on how to facilitate the projects- such as by asking open-ended questions  that can push the students to think independently  and elicit answers on their  own. The whole workshop was peppered with fun activities to keep the participants engaged. One such activity had them thinking that an alien has come to their midst, and they do not have the slightest idea about life on earth. Participants had to figure out ways to explain basic concepts, such as trees, rivers etc. to them.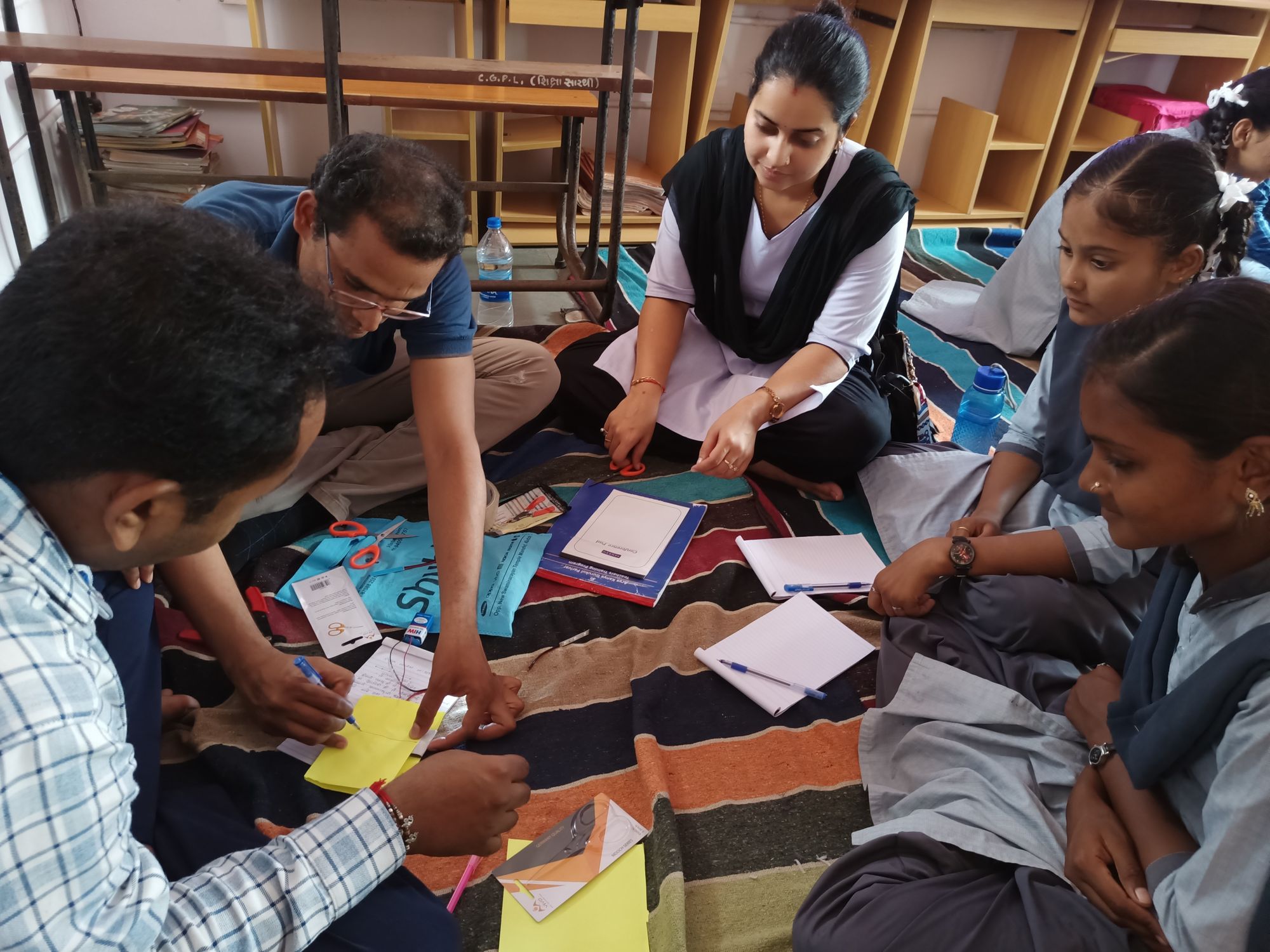 The participants appreciated the interactive approach we tried to take with this workshop. One of the participants, a teacher from a nearby government school, gave precious feedback. He said that it was because of Mihir's simple clothes he knew that the workshop would be fruitful, signalling the importance of blending in with the participants and becoming one of them to achieve the best results. We also received positive feedback on our activities which the participants found innovative and creative.

Sai's Angel Foundation, our partner organisation, was also pleased with the workshop. They appreciated our free-flowing approach, which made everyone feel like they were an active part of the workshop instead of a passive listener.

Overall, the workshop was a success as it managed to arouse the interest of its participants, who promised to carry it forward to our ultimate beneficiaries, the children. The road ahead will not be smooth- we may have to adjust our activities according to the timeline of the curriculum and the availability of teachers. Still we are focused on our goal of reaching out and ensuring as many children get benefitted from creative learning and tinkering as possible.